Belstone Players are taking to the stage, once again, with one of their popular Supper Theatres – two one-act plays and a two-course meal during the interval.
Take a husband, wife, secretary and burglar, throw some intrigue and romance into the mix and the result is Bang You're Dead by Paul Reakes – the first play of the evening. Starring some of the Players' well-known thespians, it is set in the living room of Theo and Lydia Spinks' house, somewhere in suburbia, where things are not always as they seem. Murder, blackmail, adultery and hidden agendas – with many a twist – keep the audience guessing as the plot unfolds in this comedy thriller.
After your main course and dessert, there will be another in the series of the hapless Little Belstone Amateur Dramatic Society's attempts to make their way in the acting world. In Strictly Sex Factor on Ice, by David Tristram they are, once again, faced with yet another threat to their very existence. Reality TV shows have ravaged their Saturday night audiences, which in their hey-day used to occasionally reach double figures!
However, help is at hand as Chairman Gordon has devised another cunning plan to compete head-on . . . their very own live Saturday night blockbuster, combining the best of all the other formats. All they need now is an audience, some contestants, four judges, a mirror ball …oh, yes, and some ice. So, with all that and the title, what can possibly go wrong . . . ?
Show runs from Wednesday 18th – Saturday 21st March Tickets £10 from Marion on 01837 840498 (includes supper). Bar opens 7pm; curtain up at 7.30. Please give any special dietary requirements when booking tickets.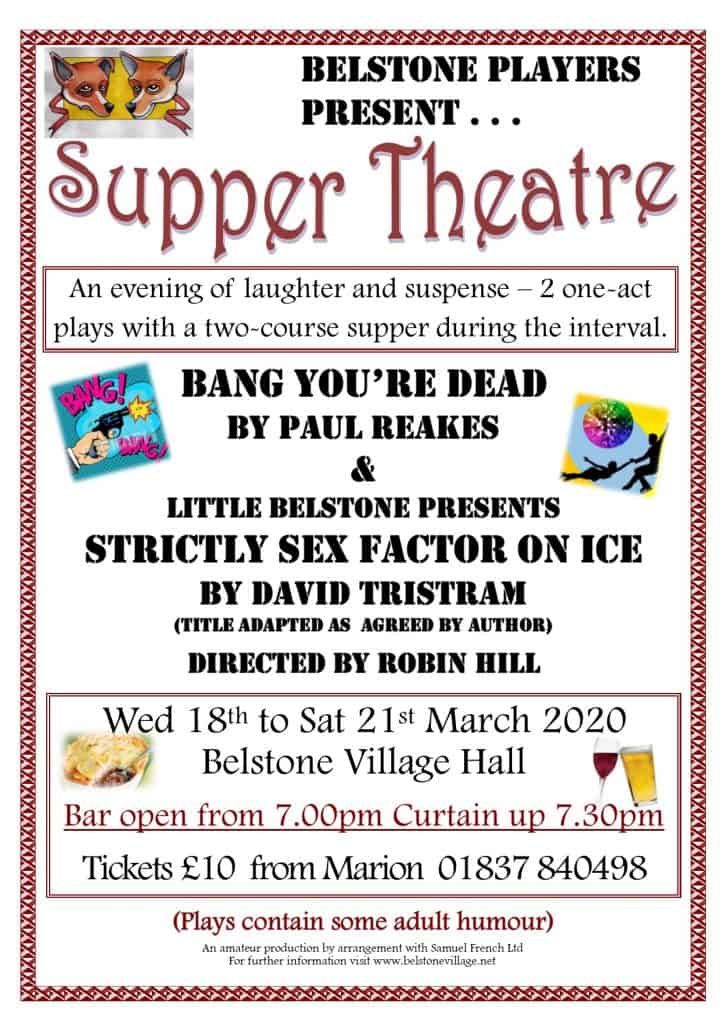 4 other dates: