Nestling 1,000 feet up on the northern edge of Dartmoor, above the Skaigh Valley, where the river Taw tumbles over the rocks, lies a little haven of peace – Belstone. A village of only 250 inhabitants, this close and friendly community ranges in age from toddlers to those in their nineties.
Belstone has a huge amount of clubs and groups, including a cricket, drama, arts and crafts, yoga, Pilates and several who provide fundraising events for local and national charities. It is also a village that beats its bounds once every seven years – a day enjoyed by young and old alike.
As part of the National Park, cattle grids allow the sheep, cattle and ponies to roam safely within the village. The animals, along with the old stocks, are a great attraction for visitors and a good photographic opportunity. As is the outlook from Great Green, with its view east down the Skaigh Valley or South to the distinct hill of Cosdon (also known as Cawsand Beacon). Depending on the weather, the view can be stunning, dramatic or beautiful, with all-year-round appeal as a setting off point for walkers who wish to practise for Ten Tors or visit Irishman's Wall and Nine Maidens Stone Circle.
A super setting, in the summer, for our annual Village Fair – which always attracts a large crowd of people to our stalls, sideshows, Maypole or Morris Dancing and quirky competitions such as dog racing and egg throwing. Autumn brings a sense of tranquillity as the greens turn to brown and gold – a good time to host the annual Craft Fair, with hand made goods from Devon craftspeople and all day refreshments. In winter, Great Green is an ideal place to go sledging, on the rare occasion we have enough snow to prevent the school bus arriving, when the village is in glorious isolation and young and old can be seen enjoying the moment.
Thanks to the support of, not only Belstone residents, but also those of other local towns and villages we are able to put on fundraising events that have allowed us to have a thriving Village Hall, with its own WiFi, and also to convert our old red telephone box into a station to hold a defibrillator.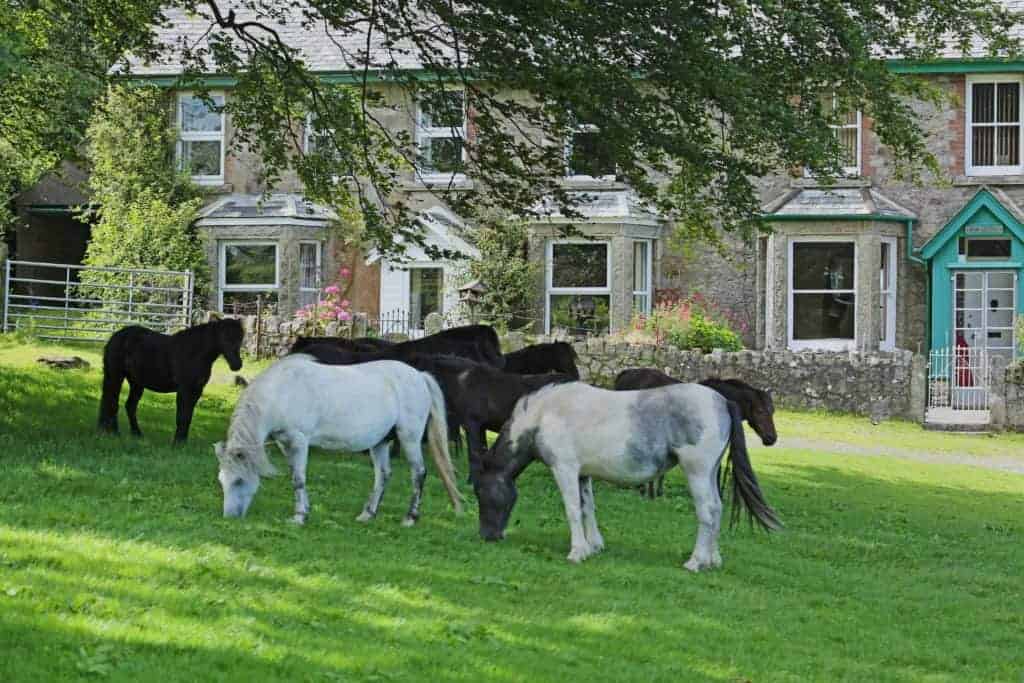 The village shop disappeared many years ago and the Post Office only visits us for two mornings a week but we still have a friendly pub – The Tors Inn – and a beautiful Norman church. This small and solid granite structure, built to withstand the Dartmoor winters, dates from the 14th or 15th century but there is still evidence of its Norman origins and there are indications that suggest Christian worship here dates back to Anglo Saxon times. The Methodist Chapel – still in use for services and festivals – has a schoolroom which has been turned into The Old School Tearoom, serving traditional afternoon teas. We also have a Thursday morning Community Café, in the Village Hall, which coincides with the Post Office and is supported by people from all around the area, providing an opportunity for social gathering. All this and the delicious cakes that Belstone is well known for locally!
It is a village steeped in history, well documented in The Book of Belstone, written by Chris and Marion Walpole as a millennium funded project; a fascinating account of Belstone through the ages. They are also custodians of the Belstone Archive – an eclectic mix of documents and photographs pertaining to the village. A truly 'busy' village of Old World charm but with its feet firmly placed in the 21st century.