Community Cafe
The Thursday morning cafe in Belstone Village Hall first opened on 6 March 2003 as a companion for the Outreach Post Office service which had just opened on Tuesday and Thursday mornings in the Hall and each week it is run by any two from an enthusiastic group of around twenty volunteers.
Where else can you catch up on the local news and gossip, read the Oke Times, borrow or swap a book, watch the Belstone Photographic Competition entries, buy local cards and the Belstone calendar, sing some Carols (December only) and get advice on community matters from West Devon Borough Council (quarterly), while enjoying homemade goodies & a cuppa?
Every Thursday 10am – 12 noon.
All welcome for a hot cuppa and delicious cake in our friendly Village Hall. Run by volunteers, and all profits go towards maintaining our fabulous Hall.
HELP ALWAYS NEEDED TO RUN THE CAFE!

Contact Mel for further info: melpike.pike@googlemail.com or 01837 840549
Post Office
Belstone Post Office operates from 9.30-11.30am each Tuesday and Thursday in the Village Hall, with a full range of postal services: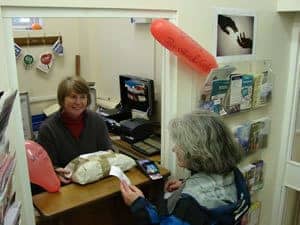 Foreign Currency – available to order
Travel Insurance – order from us and we can bring your policy on our next visit.
Car Tax – Post your ebay parcels – Top up your mobiles
We cash money for selected banks – Barclays, Co-Op, Lloyds, NatWest and others
Newspapers and a huge range of magazines – order from us and we will bring it out to Belstone.
Run by Andrew from the North Tawton Post Office