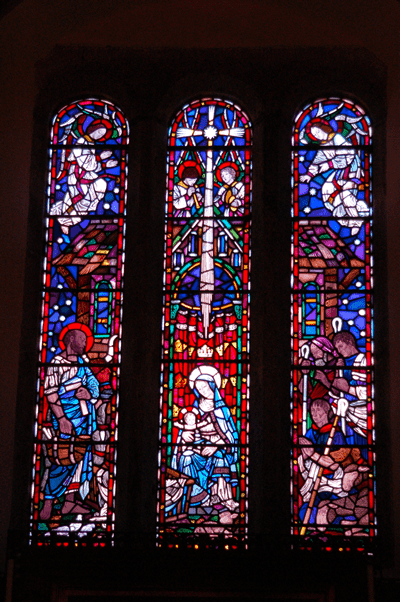 November News
Although a while ago now, on 24th September our Harvest Festival was well attended, with the choir performing with gusto! It's great to hear them sing and a bonus that we see some new faces at St Mary's. The next rehearsal will be on 16th November in the church – all are welcome to join. The donations of fresh and dried food were given to Farms for City Children.
Our plans for funding a toilet in Belstone Church look to be making good progress. The Cash for Khazi fundraising will shortly be in full swing. On November 5th Rowena and David have kindly offered to donate the proceeds from their 'flat clearance/garage sale' which will take place at Belstone Village Hall from 1pm. Refreshments will be available.
The fundraising events continue with a Christmas Concert from the Bondleigh Barn Band on 2nd December, in Belstone Village Hall, organised by Eddy. The bar opens at 7.00pm, with the concert beginning at 7.30pm. Please see The Beacon for further information.
There will also be a Quiz night at the Tors in Belstone on 3rd December, which Kay has organised, in aid of our very important cause. All are welcome to join in – teams of four at the cost of £5 per head. Cheese and biscuits will be served at the interval. It should be good fun, so please come along to help support our project. Many thanks to everyone who is organising fundraising events for Cash for Khazi.
For information: on 12th November our normal service is cancelled as our Remembrance Service will take place at 10.45am. All are welcome to join us. Plus, instead of morning Communion, our Christingle Service is to take place at 5pm on 26th November. This Candlelit Service is always magical and perfect for families, particularly children. We hope to see you at St Mary's.
Sticklepath
'The things you do for yourself are gone when you are gone, but the things you do for others remain as your legacy'
This quotation seemed to sum up the response we have received (and are continuing to receive) from our recent letter drop.
Not only has financial support been generous, we have also been given offers of time to assist with minor repairs, a new tree to replace the one blown down in a previous storm, the repair and refurbishment of the main notice board and donations of shrubs for the church garden.
Thank you all.
The usual 11am Morning Prayer will not be held this month as the annual Remembrance Service will be taking place outside the Village Hall on Sunday 12th November at 3pm.
If you are able to spare an hour of your time on Saturday 2nd December at 10am a pre-Christmas church clean will take place. A bit of polishing and brass cleaning etc which will help make the pews gleam in time for the annual Carol Service.
Sue Cruickshank (Church Warden) & Carol Johns