Belstone Village Hall, Friday 14th October 2022 7.30pm
Belstone Village Hall would like to present this talk by Tom Greeves. There will be donations on the door to cover costs and in aid of Village Hall funds.
Francis Bedford – Dartmoor's Greatest Photographer of the 1860s & 1870s – and his Contemporaries
Francis Bedford (1815-1894) was one of the finest landscape photographers of the Victorian era. He had a national and international reputation, having been commissioned by Queen Victoria in 1862 to accompany her son Edward (later Edward VII) on a tour of the Middle East. Fortunately he also documented several parts of England between about 1865 and 1875, including Devon and Dartmoor.
Other photographers (or photographic publishers) of Dartmoor at this time were William Spreat of Exeter and Way & Sons of Torquay. In Tavistock, William Merrifield was a pioneer, and Henry Hayman of Launceston recorded parts of western Dartmoor.
Tom Greeves has studied and collected early photographic images of Dartmoor for more than twenty years. His book Dartmoor's Earliest Photographs – Landscape & Place 1860-1880 (Twelveheads, 2015) was the first compilation of these. His talk at Belstone will explore the significance of these earliest images of Dartmoor and will reveal several newly discovered examples not seen for 150 years.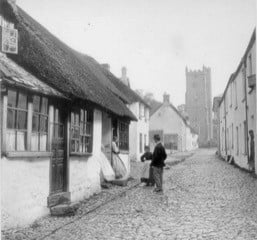 Scheduled
Noticeboard
Village Hall Posts
Belstone Village Hall, Belstone, Okehampton, Devon EX20 1RB
Map