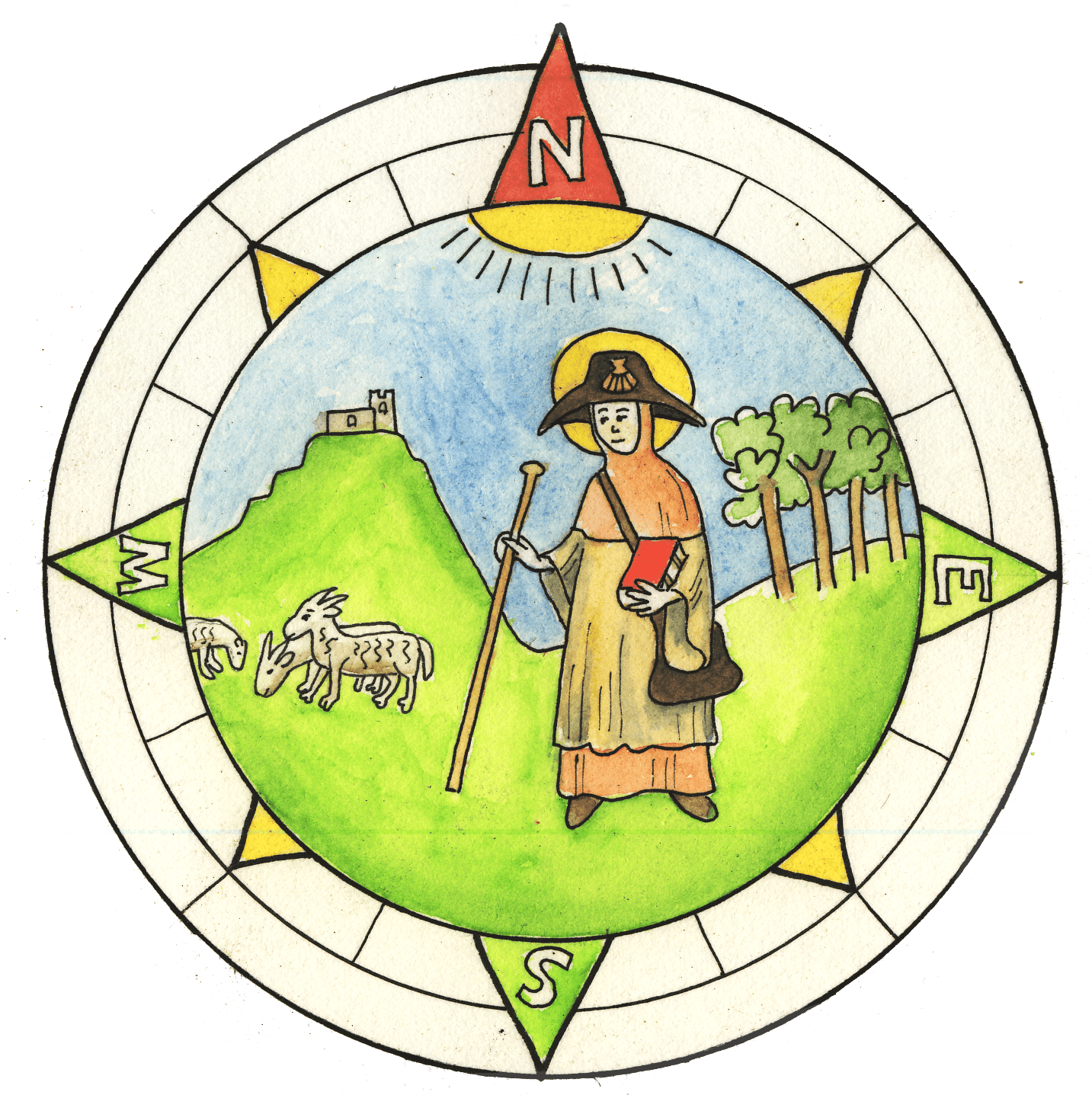 Launch of The Archangel's Way – Saturday 31st July 2021
Three years after the initial idea and one year after a pandemic-enforced postponement The Archangel's Way was finally launched on a day of celebration at Belstone on 31st July. This 39-mile pilgrimage route with the tagline wander and wonder enables walkers to cross the high moor and follow quiet lanes while visiting 12 historic churches between St Michael's, Brentor, and St Michael the Archangel, Chagford, and collecting Pilgrim Passport stamps at each place of worship
Belstone was chosen as the launch site as it is centrally placed along the route. A bell tent HQ appeared on Great Green the previous afternoon, perhaps the first time such a structure has been seen around here since the Canadians camped in some on Watchet prior to D-Day in 1944. A poo-clearing party set to work as though it was Belstone Fair day. First action on the morning of the 31st came from flocks of sheep – Reddaway sheep after shearing on their way to a field next to the tent and Francis sheep coming off the moor en route to shearing at The Lees Farm. After a peal of St Mary's church bells, Rev Paul Seaton-Burn, Team Rector of the Whiddon Parishes and the driving force behind the organising group, led a group of fifty on Great Green in a short service of hymns and reflections on the meaning of pilgrimage. Well known folk singer Jim Causley premiered his new composition The Archangel's Way, each verse finding the essence of the communities along the way – Brentor, Lydford, Sourton, Belstone, Sticklepath, South Tawton, South Zeal, Throwleigh, Forder, Wonson, Providence, Gidleigh, Murchington and Chagford – while the great hill of Cosdon dominated the background as the gathering sang the chorus:
Spreading his wings in an arch o'er the moor
Guiding the traveller, the pilgrim of yore
Leading with love on our journey this day
As we follow the Archangel's Way.
The afternoon continued with food and refreshments with music from Annie McGee and James Goodwin, Last Man Standing, Cogs & Wheels Ladies Morris accompanied by Mike Palmer, and Hot Club du Square during which a forty-strong party of walkers arrived from Sourton to meet a smaller group coming from Chagford. To the accompaniment of another peal of St Mary's bells by Chagford ringers these pilgrims entered the church to stamp their passports on a table next to a treasure of the building, the early medieval Belstone Ring-Cross.
The theme of bells ringing out along the route, which had begun at 9am in Chagford, ended at Brentor at 7.45pm. By that time at Belstone the tent had come down, Jim Causley was performing at the Sidmouth Folk Festival and all the walkers had dispersed, perhaps with some of Rev Paul's words still fresh in their thoughts; Even in our imprisonment we can find broader horizons. So if you are saying I can't walk 39 miles round Dartmoor that's not a reason not to listen to your inner spirit longing for those broader horizons of wisdom and love and life… Pilgrimage is not just for you and me, it's for us… There's something about pilgrimage which is not just a solo activity. This is not just another walking route across Dartmoor. This is a journeying route and a place for art and good faith and poetry and honesty and listening to one another on the way.
For more information see www.devonpilgrim.org.uk.
Chris Walpole
Photos by Chris Walpole