This is the first in a new monthly series in the Belstone Blog, written and provided by Chris Walpole. Originally published in "Good Neighbours" magazine, each walk explores a different aspect of the parish of Belstone, and appears here with additional images taken from the Belstone Community Archive. For more information on the Community Archive, please contact the editors or email Chris Walpole at .
Short Walks in Belstone Parish – No 1
A 45 minute walk in the Skaigh valley, passing several features of historical interest.
Start from the open area around the former Skaigh Stables (OS SX631940), walk 50m down the road towards Sticklepath and turn right onto a path.  Soon you come to the 'Lion's Mouth' fountain with the name 'Rockside' on it, dating from the 1870s.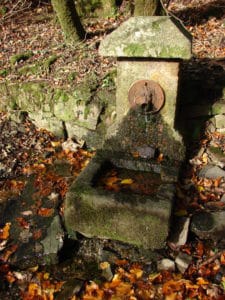 Continue downhill for 70m where you cross a fairly obvious level shelf.  This is an old leat which took water from the River Taw to a large waterwheel.  Turn onto the leat for a little way to appreciate how it follows the contour.  Return to the path, descend to the valley bottom and turn left onto a wide path.  Almost at once bear right to reach a bridge over the Taw.  The evocative words on the bridge are from Tarka the Otter, written in 1927 by Henry Williamson; part of the story is set in this valley.
Retrace your steps to the wide path, turn right for 150m, then branch right down to the river.  About 10m before you reach a small stream look for the nicely carved 'B' stone, flat to the ground, beside the path.  It is probably a mine boundary marker.
Cross the small stream and continue 300m downstream past the weir until the path bears away from the Taw.  Now you are alongside another leat which, until the 1930s, took water to Cleave Mill at Sticklepath.  Halfway to the road, beside this leat, look for a moss-covered stone with an 'A' carved on it, believed to be another marker.
Turn left and walk 450m up the road and around a sharp bend.  Look down on the wall to your left and be amazed that this is the site of the largest waterwheel ever built on mainland Britain.  Climb down with care and imagine the 60ft diameter wheel, painted red, towering above you.  Erected in 1878 it provided power to de-water Greenhill Copper Mine 600m to the north.  It was sold for scrap when the mine closed about 100 years ago.
Continue up the hill past the line of granite posts (I counted 55 of them) to your starting point.
Chris Walpole