The second in a new monthly series in the Belstone Blog, written and provided by Chris Walpole. Originally published in "Good Neighbours" magazine, each walk explores a different aspect of the parish of Belstone, and appears here with additional images taken from the Belstone Community Archive. For more information on the Community Archive, please contact the editors or email Chris Walpole at .
Short Walks in Belstone Parish – No 2
A one-hour walk to a ruined house above the East Okement valley
Start close to the cattle grid (OS grid ref SX 6125 9422) halfway between Belstone and Priestacott and walk along the bridlepath signed 'West Cleave'.  At the gate onto the moor find the Ordnance Survey benchmark cut into the right hand post – you are precisely 980.28 feet (298.79 metres) above sea level.
Walk up to the outcrop of West Cleave Rocks, more romantically called the Coronet of Rocks.  Popular for abseiling, it gives a wonderful view of Exmoor, the fields of mid Devon, the East Okement valley, Halstock Wood and Belstone Tor.
Proceed south, keeping to the main top track so that, after about 600 metres, you can look down on the East Okement at the footbridge and crossing point known as Chapel Ford – described by Eric Hemery in High Dartmoor (1983) as assuredly one of the most delightful glades in any Dartmoor cleave.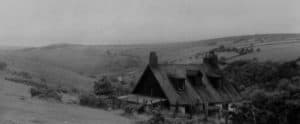 Continue as the track climbs uphill until you come to a ruined house on your left.  This is Watchet Hill Cottage, the remotest house in Belstone parish, and last occupied in the mid 1960s.  Built over 120 years ago, Eden Phillpotts stayed here to soak up the atmosphere before making the house one of the main locations in his famous novel The Secret Woman, published in 1905.
Retrace your steps for 400 metres then keep right along the wall to reach a gate and bridlepath into fields.  Follow this green lane 500 metres to the road.  Nearly half way along look left through the beech trees to see a curious circular structure in the centre of a field – this is an old animal pound.
Turn left along the road for 500 metres back to the start.  Just before you finish note the unusual design, including turret, of Cleave House on your left.  Major Richard Carnegy lived here before the First World War; he was killed at Gallipoli on 10 August 1915, one of four parishioners to lose their lives in the conflict.
Chris Walpole