Parish Council Meeting – April 2022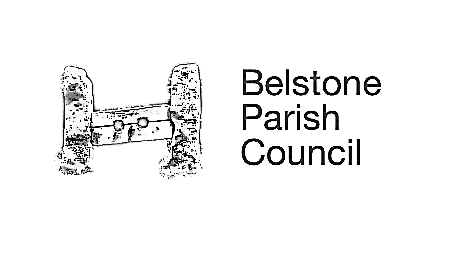 BELSTONE PARISH COUNCIL
Minutes for the meeting of Belstone Parish Council held on 12th April 2022 in the Meeting Room, Belstone Village Hall at 7.30 pm
Councillors Present:
Michael Ash (Chairman), Paul Boyce, Peter Cooper, Susan Norrish, Jon Pike, Theresa Weaver.
Also Present: Sally Fullwood, Cllr Lynn Daniel (WDBC), Peter Grubb, Sophia Clyst
2022/23-1 Disclosures of Interests
There were none.
2022/23-2 Apologies for Absence
There were none.
2022/23-3 Public Participation
Sophia Clyst confirmed that she will slightly amend the Dog Poo Poster and forward it to the Clerk.
She has a quantity of sandbags; it was agreed that these should be given to Ann Norman.
2022/23-4 Minutes
The minutes of the meetings of the Council held on 22nd February 2022 and 8th March 2022 were signed as a correct record.
2022/23-5 Borough Councillor Statement
Cllr Daniel's March and April reports had been distributed. Cllr Daniel updated the meeting on the situation with Broadband, the Beacon Path and the grant application for the Parkway Station. The Clerk asked if we could request a donation from the locality grant for the jubilee memorial, and Cllr Daniel agreed.
2022/23-6 Chairman's Announcements
A. Dartmoor National Park Authority Ballot Paper
The clerk had received a ballot paper for the election of a Parish Member too late for the agenda, it had been circulated. Nobody knew the candidates, but on the basis of their 'Reasons for Applying' it was agreed to vote for Mark Williams.
B. Thanks from former councillor
The Chairman had received a letter from Ann Norman who resigned on 31st March, thanking everyone for the flowers and saying she would miss the meetings.
C. Bus Shelter
Cllr Cooper and Cllr Ash have cleared the vegetation from the bus shelter. Cllr Cooper raised the problem of graffiti on the shelter.
Action: It was agreed that Cllr Cooper would obtain a tester of some anti-graffiti paint and research its efficacy and price.
Action: It was agreed that Cllr Weaver would clean any rubbish from the shelter once a month.
2022/23-7 Finance
A. Change of Bank Accounts (Resolution 2021/22-45B)
Cllr Pike reported Lloyds Bank are now opening accounts for existing Parish Councils.
Action: Cllr Pike will apply for the new account.
Action: Clerk to forward details.
B. Draft 2021/22 Accounts
Proposal: To accept the draft accounts for 2021/22 which had been forwarded to the councillors
Proposer: Cllr Pike, Seconder: Cllr Weaver, all agreed.
The clerk confirmed that the £120 bonus would be paid in 2022/23.
C. End of Year Budget
The End of Year budget was noted and approved
D. Payments Due
The following payments were authorised:
DALC Subscription £56.36 (last year £55.08)
Data Protection Fee £35 (same as last year)
Payroll Service £60 Half a year for last year, although the invoice has not yet been received.
2022/23-8 Clerk's Report
The clerk informed the meeting of some planning and licensing applications in neighbouring parishes which had been received, and of some other correspondence.
2022/23-9 Car Park Actions
A. Removal of Tree Guards (Resolution 2021/22-34E)
Cllr Ash reported this had not been done, it is waiting for better weather. Hoping to be done in the next 3 weeks, on a dry evening. Councillors will be notified to help by email.
Cllr Cooper reported that there was a possibility of replacing the car park noticeboard with a larger one, so he would not buy the wood for supports until this was confirmed.
Action: Cllr Ash, Cllr Cooper, Cllr Boyce, Cllr Pike
B. Removal of Grass (Resolution 2021/22-47B)
Cllr Ash reported this had not been done; it will be done in the next 3 weeks. Cllr Ash will liaise with the Commoners regarding transport of the aggregate.
Action: Cllr Ash, Cllr Cooper
2022/23-10 Queen's Jubilee (Resolution 2021/22-56)
A. Tree Planting and Plaque
A red hawthorn tree has been donated and planted at Well Park with guards and bulbs around it. The council thanked Dick Norrish for planting it.
The plaque has been received by the Clerk.
B. Memorial Engraving
The engraving has been ordered, and a 50% deposit paid.
C. Funding Jubilee Activities
The grant application was not successful; there had been a very large number of requests.
The amount could be covered by reserves if necessary.
Action: It was agreed that the Clerk should apply to Cllr Daniel and Cllr McInnes for funds
It was agreed that local fundraising was not necessary.
2022/23-11 Village Light (Resolution 2021/22-73)
Action: Cllr Norrish will ask the person who complained whether the timer on the light is now working to their satisfaction.
2022/23-12 Dog Poo Signs (Resolution 2021/22-57)
The Belstone Commoners' Association had approved Sophia's poster. They had previously requested that it be mounted on board and secured with cable ties.
Action: Cllr Cooper to see if he can provide plywood for the five A4 gate posters, if not Clerk will write to the Belstone Commoners' Association to ask if they can provide it.
Action: Clerk to print and laminate 7 posters when file received from Sophia.
2022/23-13 Mobile Booster Scheme (Resolution 2021/22-51B)
The Clerk is the Broadband Champion for Belstone. The mobile booster scheme is not helpful when there is no signal outside. The Clerk is waiting for the West Devon Borough Council Digital Enhancement Officer to move her focus to mobile signals.
2022/23-14 Car Park Sign
Action: Cllr Weaver will put out the car park sign for the bank holiday weekend starting on Friday morning.
Action: The Clerk will print out the car park plan, A4 and a dog poo poster to put on the other side.
2022/23-15 Parking on Great Green.
The Belstone Commoners' Association had not made any progress on this, but they were hoping to do kerbs which the highways department had said would not deter parking.
The idea of a temporary A-Frame sign to be put up on busy weekends was again discussed; a permanent sign had been rejected by Ian Brooker, the Dartmoor Ranger.
Action: The Clerk will write to the landlord of The Tors Inn and Michael Reddaway suggesting that a temporary A-Frame sign could be put up on busy weekends to say 'No Parking on this Verge'.
Action: Cllr Cooper said that he would create a temporary sign with plywood on a stake in the meantime.
2022/23-16 Planning Consent Storage Shed adjacent to Tor Cottage
Conditional Planning Consent had been notified; this was noted.
2022/23-17 Councillor Vacancy
Peter Grubb had applied for the vacancy.
It was agreed that the new councillor should be in place before the Annual Parish Council Meeting, so that they could take part in the vote for Chairman. Therefore a meeting will be held on Tuesday April 26th at 7.30 pm to co-opt.
It was agreed that there was no need for an advertising campaign for other candidates.
2022/23-18 Joint Chairman Role
The Clerk had discovered that it was not legal to have two chairmen. However, the Vice Chairman role had all the same powers as the Chairman, apart from that the Chairman of the meeting has a casting vote.
2022/23-19 Code of Conduct
Proposal to adopt the Code of Conduct based on the West Devon Borough Council Code of Conduct.
Proposer: Cllr Weaver, Seconder: Cllr Pike, all agreed.
2022/23-20 Annual Parish Meeting Agenda
The agenda had previously been circulated and was agreed.
2022/23-21 Asset Inspection
It was agreed that assets did not need to be assigned to individual councillors for inspection.
Action: The councillors will all inspect the assets.
Action: Cllr Cooper would look at the telephone box which may need some work, and at the sign on the Pound.
2022/23-22 Biodiversity Enquiry
A member of the public had questioned whether the council was fulfilling its duty to have regard to conserving biodiversity as part of their policy or decision making.
It was agreed that the Council was considering biodiversity particularly in their work with the Skaigh Wood Trust, in liaising with Greener Belstone (including on the Annual Parish Meeting agenda), and attending Wild About Devon meetings.
Action: The Clerk will write to the member of the public, inviting any suggestions and saying that the council is happy to discuss it further.
2022/23-23 Speeding in the Village
Cllr Weaver was concerned about vehicles speeding in and around the village. The Council had previously applied for a 30-mph zone, but this was not possible on minor roads. Incidents were daily, but it was agreed that the Council did not support campaigning for a 30-mph limit on all single-track roads.
Action: The Clerk will write to the Highways Officer and Dartmoor National Park Authority to ask what options are available to reduce speeding, and fill in the DALC Rural Roads Survey.
The meeting closed at 9:48 pm.
The next meeting will be on Tuesday April 26th 2022 in the Meeting Room of Belstone Village Hall at 7.30 pm.